Adele Mitchell
Fear and mountain biking
Our brand ambassador Adele Mitchell has recently written a fantastic blog post about fear and mountain biking. Her post is inspired by Megan Hine's new book, Mind Of A Survivor. In her book she explains how the instinct and skills needed for survival can be applied to ordinary lives.
Adele Mitchell- "Ultimately when we ride we are all chasing 'the flow' fix – those moments when your mind and body connect and riding becomes instinctive and effortless "it's the most beautiful, almost spiritual feeling: a kind of physical enlightenment' says Hine. But this means pushing ourselves to our limit, and when fear takes over (which it does for me fairly often!), we freeze, don't think clearly, and are then in more danger. Reassuringly Hine explains that fear is an evolutionary response to a perceived danger and there is nothing impressive about not being scared because that means you don't know you may be in trouble. Fear is your body's way of saying something is wrong. To move forward, it's important to control your fear – perhaps using visualisation (I have found this very effective, though it takes practice!), or by pinpointing the cause, accepting it and putting it 'into a box'."
Cy - Although written from her perspective and based on her experiences, it's a universal theme and one which I (and I'm sure all of us) still battle with, and it's very definitely not just women who have to deal with it. That said, in a male dominated sport it does seem that women do feel more easily intimidated in group ride situations, which I think is a huge shame.
Sam told me how positively the Cafe Adventure Women's Demo had gone the other week, with feedback being that the people who attended felt much less pressure about 'slowing everyone down' and other such things. I guess we all have this to some extent - the playground concerns about fitting in. I know I was put off riding with a group of guys I met not long after moving to Sheffield because they were soooooooooooo much faster than me. They never complained about waiting, and never took the piss, it was all in my head. It's not nice being the one at the back though. All sorts of ego issues wrapped up in it. I ride with them regularly now, and can largely keep up these days (just about), but it took some swallowing of pride and some effort on my part to improve a little to make me comfortable in my own skin with them. Like I say, nothing to do with them or their behaviour (apart from being annoyingly fast and strong on bikes), all in my head...
I hope by discussing it we make you think, and realise, feeling these pressures is OK, and completely normal. We're all here to have fun. As she says, we really don't talk about fear enough.
Read more of Adele's blog post discussing fear here
---
12/06/2017 - Tweedlove Race
Nice one teaaam! 2nd and 4th - Amazing!
---
10/06/2017 - Tweedlove Post Demo Play
---
09/06/2017 - Tweedlove Weekend
This weekend we are at Tweedlove Bike Festival with our Cotic stand and our whole demo fleet!
If you're wanting to demo a Cotic, there's probably no better place than this festival! It's the perfect chance to get a close up look at our bikes and to chat with Cy and the rest of the Cotic team. Hope to see you there.
---
05/06/2017 - Adele Mitchell clothing
Adele Mitchell
She must be the best dressed mountain biker...
Our brand ambassador Adele Mitchell has written a great piece about what she loves to wear when out on the trails.
---
05/06/2017 - Ben Gerrish race weekend
Our brand ambassador Ben Gerrish and our team riders Swinny and Chay went to the PMBA at Lee Quarry this weekend. While Ben Gerrish was there he had a great time with our team, learning their eye for a good line and what an athlete's lunch consists of.
Ben - "The Rocket held strong, did me proud and caught a peoples eye as usual. Front and back Vigilantes was a prime choice, to balance the fast rolling dust and rocks in Lee Quarry, with the unfathomably slippy tracks at Havok. All in all... top razzing."
---
02/06/2017 - Bikes for Sale
For sale
The Rocket and FlareMAX recently came back from MBUK and What Mountain Bike Trail Bike Of The Year shootouts. They both did great, but the FlareMAX in particular smashed it in What Mountain Bike, getting 6th out of the Top 20 and beating some seriously well thought of competition. You can see the abridged version of the review over on BikeRadar.
Rocket Silver Custom, Large, Matte Orange - NOW SOLD
The budget for the MBUK test was £3,000, so this bike is a Silver Build with SLX 1x11 and Deore brakes. Detail specifications are:
Race Face 150mm dropper post
50mm stem
785mm wide bars

Go Custom upgrades:

Sweep Roughcut HLR damper 160mm travel fork
WTB Tubeless Tyre upgrade with Vigilante and Breakout tyres.

Retail price on this is £2999. This bike is available for £1999. We can even offer 0% Finance on this. Order Now.
FlareMAX Silver 29 Custom, Large, Aqua - NOW SOLD
It's the Silver build which features SLX 1x11 drivetrain and Deore brakes. Detail specifications are:
Race Face 150mm dropper post
50mm stem
785mm wide bars
Go Custom upgrades:
McQueen Roughcut HLR damper 130mm travel fork
Cane Creek DB Inline shock
WTB Tubeless Tyre upgrade with Vigilante and Trail Boss tyres.
Retail price on this is £3199. A snip at £2199. We can even offer 0% Finance on this. Order Now.
---
02/06/2017 - Restrap X Cotic 2
JUST IN: A second batch of our RESTRAP x COTIC bags has arrived. This time with orange logos and green zip helper. Designed for our droplink full-suspension frames, but will fit any of our bikes.
Like batch 1, these are made in the UK.
These are available now for £45. You can orders yours today on our Merch page, and we'll dispatch it next week.
---
26/05/2017 - Hannah
Episode 1
A few months ago as you probably know, Hannah joined us to help out with organising demos and packing boxes for dispatch, amongst other things. It was quite the change for us, the first member of the team to be a non-biker (GASP!). Working for a bike company was unlikely to result in her avoiding the sport completely, although this was a slightly quicker introduction than she might have expected.
So here's the first instalment of the story of Hannah and the random photo. Wait, that's sounds dodgy! It's about bikes, honest. Read on.....
If someone told me a couple of years ago that I'd be into mountain biking and entered into an enduro race I'd have laughed at them.
I've always tried to stay active in some way, my hobby was dancing for many years, before that it was horse riding. I still love and enjoy both very much. Many of my friends are interested in mountain biking, and living in Sheffield that's hardly surprising as you're never far from a trail, pump track or a secret set of dirt jumps. However, it's never been something that's crossed my mind as something I could have a go doing. Until recently.
Getting the job here at Cotic has definitely opened my eyes to a whole new world and mountain biking scene. I started just a few months ago as the Demo and Dispatch Assistant. Upon starting, they warned me of a big event later in the year called the Ard Rock Enduro, you may have heard of it... I hadn't. Looking at their website I spotted Maxxis, a main sponsor for the event, were running a competition for a set of new Double Down tyres. All you had to do was send a photo of your bike with Maxxis tyres on. Looking around the Cotic warehouse, there, right in front of me stood a rather nice bike with Maxxis tyres. *Click*. Off my entry went, "Why not? You never win these competitions anyway" I thought to myself. How wrong I was! A few weeks later an email from Maxxis landed in my inbox, explaining that I'd won tyres, plus entry to a fully booked Ard Rock Enduro. Great. Some serious training had better start... And I'd better get a bike!
Luckily, working for Cotic they could help me out. The small Flare prototype which Paul had ridden was dusted off, and the demo 'bit box' was raided [for an ex-demo 1x10 XT drivetrain, Deore brakes, some WTB rimmed wheels from Plus tyre testing, plus random assorted finishing kit - Cy] and was soon looking good. But what to wear? Flare Clothing are helping out the race team this year, and Cy told them my story, so Flare Hannah [lot's of Hannah's! - Cy] sent me some riding kit to get me going, a bit of a deal on a pair of shorts and a riding jersey. Most of the guys here ride flat pedals, and I didn't fancy trying clips so I got a pair of Women's Contact Five Ten's and bought myself some Burgtec pedals. Then WTB heard of my story and sent me a ladies Deva saddle and Padloc grips. I now had no excuse, but to get out there and do some training!
My first ride I was a little slow to say the least, but I absolutely LOVED going downhill and felt such a buzz from it. I immediately understood why people loved mountain biking. The next day I must admit, I definitely felt it (especially my bum!) but it wasn't long before I was back in the saddle practising again. I started watching videos online of amazing women that mountain biked and realised it's a small, but very supportive community of women. This is definitely something I'd like to get involved with in the future. I didn't manage to get out and practice much before it was Cotic's Spring Party, and what a great party it was. Nice weather, good food and great company. I joined in on the Cotic Owners Ride Out, 45 people turned up to join us on the ride. It was a pretty big wake up call because I had my first crash. I hit my head quite hard (horse riding taught me to always buy a decent helmet, so I was thankful for my Troy Lee Designs helmet that day). I also managed to scrape and bruise my arms and legs. It wasn't a pretty sight! I also realised my legs couldn't cope on long or steep hills so I knew that was the next thing I desperately needed to work on. Almost a week later, after the cuts scabbed over and the bruises had started to heal, I hopped back on and went for a ride. By this time I'd made myself a mental list of all the things I'd learnt from the Ride Out. I'd learnt the importance of body positioning and that I needed to strengthen my legs for the hills. I've got a few local routes now that I try to do a couple of times a week. I see improvement every ride, which is so rewarding. I go further without getting out of breath, I can pedal for longer without my legs hurting and most importantly, afterwards my bum doesn't hurt anymore! My learning curve has been near vertical, but I'm starting to see the rewards and actually really quite enjoy it now."
Cy- What Hannah fails to mention is that she crashed following Kelvin down some 'jazz lines' on the Golf Course descent into Bakewell which was the trickiest of the ride. Fair commitment!
Hopefully you'll find it interesting following her progression. I guess Cotics are mostly bought by people who are well into the sport already, so it's interesting seeing it from the angle of someone who asks questions and is keen to learn. Maxxis are in the process of sending the tyres, but Hannah recruited mechanic Will to choose them. Another thing to remember about being a newbie - tyre choice is bewildering! Another plan in a few more weeks is to get Brand Ambassador Gareth from A Line Coaching to give Hannah some tips before she develops too many bad habits. I'm actually slightly jealous of this. The hardest bit of improving my riding through coaching over the last few years is stopping doing the wrongs things before making the right things second nature.
Hannah will be writing a few more of these in the run up to participating at Ard Rock, and it's one of our big events of the year as we'll have a stand and the whole demo fleet for you to ride. It's a massive festival of MTB; it's ace!
---
24/05/2017 - BFe275 Summer Sale
BFe Summer Sale
---
09/05/2017 - Demo Weekend In Ireland
Ireland Demo Weekend
Last weekend Sam took the demo tour to Ireland, his first Ireland trip. He was so lucky with the weather. Blue skies and dry, amazing trails. He's written some words about his travels...
I'm worn out as I sit on the ferry home writing this, but what a fantastic weekend. Heading over to Ireland with the demo tour was a big step, and I was a little nervous about it, but I needn't have been. The trip got off to a good start sailing out of sunny Liverpool on Thursday, and the weather only got better all weekend. I was lucky to have wall to wall sunshine, which made the trip pretty special.
On Friday I caught up with Russell, a friend of mine from when I lived in Newcastle who moved home to Ballymena a couple of years ago. We headed up to meet a few of his mates for a ride in the woods above Ballycastle on the North coast. The trails were dry and running fast with tonnes of grip, the first proper summer conditions I've ridden this year. Russell bagged a KOM on the RocketMAX, and I think he's taken with the idea of a 29er! Nightrider was one of the steepest trails I've ridden in a while, getting a clean run felt amazing.
Saturday saw me head down to the National Outdoor Centre at Tollymore for an Open Demo Day. The sun kept shining and there was lots of love for the bikes, more Strava PBs and car park jibbing. Russell convinced me to go for a quick lap after I'd packed up, and I'm so glad I did. The trails there were some of the best I've ever ridden, everything about them was well made and perfectly laid out. Despite them being pretty technical, riding them blind was easy as the jumps were well shaped and the corners were all in exactly the right places to slingshot you into the next rock garden or drop. 'Parnells' is now my new favourite trails in the whole world! I did find full compression on the Rocket at one point though, but it soaked it up and fired me through some gnarly sections with ease. If you ever head to Northern Ireland for a riding trip, you must get someone to show you round Tollymore. So buzzing from a great day, I drove south on Saturday night to Dublin, ready for Sunday's demo day with expert cycles at Ticknock.
Arriving to a busy car park early morning, I knew this would be a hectic day. What I didn't know is how good the trails are there! With the local knowledge of the lads from the shop, the group demo rides took in a mixture of trail centre stuff, technical climbing on the moors, fast, rowdy and blown out enduro stages and fresh cut loam in the dense forest. Amazing riding. Again, lots of love for the bikes from both existing Cotic owners and those who'd never even seen one before. It was a busy day, with lots of people trying bikes, and 20° heat! I certainly felt like I'd earned my Guinness that evening.
Big thanks to Russell, Jennifer at Tollymore Outdoor Centre, Alfie, Robin and the lads for making the trip easier and successful. Also a huge thanks to everyone who came to the demos and made me feel so welcome. I'll definitely be back.
---
05/05/2017 - National Championships
National Championships
Last weekend saw the first ever offical UK National Enduro Championships, organised by the PMBA and held at Grizedale in the Lake District. It was an EWS qualifier so the game was upped considerably in terms of the size of the loop and the number of stages. 55km and 3 solid days of practice and racing over 10 stages meant that it was going to a proper all round test of riding. Just as it should be for the Nationals.
The boys arrived on Friday for practice, with some work to do as we had just received our X Fusion suspension for the new season, so the Metric forks and Vector shocks needed dialing in as well as practicing the stages.
With half the practice in the bag, Saturday saw some practice and some racing, with Sunday finishing off the racing. The stages varied from extremely technical to fast and flowy. Swinny said it didn't really suit him as he found it 'awkward', and Chay was getting on with it pretty well.
Overall we did pretty well, with Swinny getting 2nd in Masters and 6th overall after what he considered a bit of a difficult weekend, and Chay was disappointed with 7th in Vets after running really competitively with some old school big names like Tim Ponting and Andrew Titley. However, a front puncture (his first since the start of last season) and a crash dropped him off the podium. The speed is there though, and it was a stacked field so we're really happy for them!
---
25/04/2017 - Women's Cotic & WTB
Women's Pack Launched For All Cotic Bikes
Now we have our expanded range of bikes, it seemed that the obvious next step for our Go Custom programme of bike spec options would be to offer something for our female riders straight out of the box. We already put great emphasis on the importance of bike fit, with our no cost stem length and bar width/rise options so we can help you tailor your bike fit when you get your Cotic. With the relaunch of the Deva saddle from our friends at WTB, it seemed the perfect time to put together something great for female riders to choose when getting a bike.
Our latest addition to the team, Hannah, and our Brand Ambassador Adele have been trying out WTB women's options for a while and have given them the thumbs up, so we are now stocking WTB Deva saddles and WTB Pad Loc Thinline 28mm diameter (smaller than our Cotic option) grips as a no cost Women's Pack option on all our bike builds. Here are some photos of Hannah's Flare (it's the pre-production prototype, hence the green paint!) with the Women's Pack fitted, and Adele Mitchell's aqua Flare.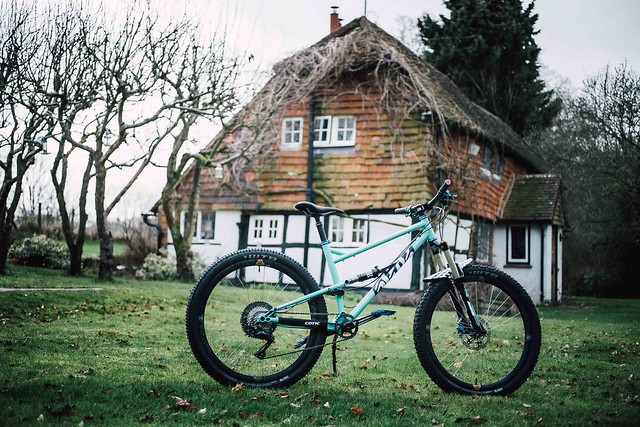 Forge Coffee Roasters supplied us with fantastic coffee all day, from their beautiful Austin 7 van. Vocation Brewery kept the alcoholic beverages flowing. Kadai Company let us borrow a brilliant fire pit to keep us warm well into the evening. Studio Soho supplied us with a beautiful spot prize wallet, Awesome Merch kept us supplied with even more stickers and map print postcards. Special thanks to Adam and Will's mum for the amazing food!
A HUGE thanks to everyone that came along and made it a fantastic Cotic Ride out and event! See you all next time?
---
21/04/2017 - win the chance to race at Steel City 2017
WIN
A CHANCE TO RACE THE COUNTRY'S BIGGEST LITTLE RACE
Polaris Bikewear and Cotic have teamed up to offer you the chance to race at...
Steel City 2017
BUT WE ONLY HAVE ONE SPOT UP FOR GRABS
---
19/04/2017 - Ben Gerrish reviews for Bikesoup
Ben Gerrish has been busy writing a review and article for Bikesoup Magazine about his Cotic Rocket.
His Top 7 Advantages of Buying A Cotic:
Advantage 1: I rolled up to their door, knocked on it and was instantly offered a cup of tea.
Advantage 2: Cy, originating founder of the Cotic brand (Cy Cotic, get it?), was keen to show me the new 29er version, The RocketMAX, before I 100% settled on the 650b model. He knew my riding style and approach to bikes from emails prior to my visit and thought it was something else I should put in the mix.
Advantage 3: Being based on the edge of the Peak District, they are lucky enough to have a perfect test track on the doorstep, and having their operations based out of one spot they have a test fleet of each of their bikes available to hand.
Advantage 4: I'd chosen the wheelsize, but that only limited me to the frame. This is one of the most influential advantages of the smaller, more personal bike brand, in that nothing is set in stone. Although they provide stock spec bikes available to buy from the website, they have accounts with all the usual suspects, which allows you to create your dream build.
Advantage 5: You can speak with any one of the dudes working there, if you have an on going build, chances are they're all aware of it. The blue pedals to match your top caps and headset cups, the cheeky colour coded bolts on your brake callipers. All fixable before its delivered to your door. There is also a vast selection of components available within a stones throw of the Cotic base; Burgtec, Hope, Hookit Distro, all on call to help ensure that dream build is… well… dreamy.
Advantage 6: A little leftfeld, dependant on your taste in bikes, but no.6 is close to my heart. Cotic are a small, independent brand, they're not creating bikes that simply tick boxes, they don't all "look like a trek", not that I have anything against Trek, but the Cotic Rocket is a unique looking beast. From the seat tube forward you're basically riding their cult status BFe hardtail frame as far as aesthetics go and from the suspension back-end you're into the realms of a visual masterpiece. A steel constructed front triangle and seat stay, mixed up with an alloy chain stay gives just enough stiffness, in all the right places, making it ready to take on whatever you can throw at it.
Advantage 7: they have a travelling demo fleet, and you get to spend the day razzing about with Sam. So there you have 7 advantages to keeping it British, buying local, talking to real people and getting yourself a real razzable bike.
Have a read of the full article by following the link below!>
---
18/04/2017 - Guy Kes TV reviews Cotic FlareMAX
Last week we were lucky enough to have Guy KesTV join us at our Cotic HQ. He loves the FlareMAX and says it's one of the best mountain bikes in the world! He tested the bike on our local demo loop, the loop which all our prototypes are tested on!
Take a look at his great video about it:
---
13/04/2017 - PSSST... Spring Promotion!
Quick note to let you know that we're offering free Cane Creek DB Inline shock upgrades on Rocket and RocketMAX for the rest of April. So, just £1499 instead of £1749 for the DB Inline equipped frame, or free upgrade on the Silver bikes. On the Gold and Platinum bikes where it's stock spec, these bikes are £250 cheaper, so just £3349 for a Gold build.
It's a fantastic shock with tonnes of adjustability. It's Cy's preferred shock and he wrote all about our shock options and tuning last year, if you fancy a bit more of an in depth read, follow the link.
UPDATE 2017-05-02 : offer has now finished
---
11/04/2017 - What Mountain Bike Magazine, Trail Bike of The Year 2017
What Mountain Bike's Trail Bike of The Year 2017
Look what landed on our desk!
What Mountain Bike reviewed our FlareMAX and have given it a fantastic write-up.
Grab yourself a copy and have a read!
---
07/04/2017 - Rocketman 3 - Return of Straightline
Rocketman 3 - Return of Straightline
Sheffield is at peace. It's quiet....maybe TOO quiet. Is our hero still needed?
A new tyranny rises, and a big wheel weapon is needed to combat the new evil.
Cotic RocketMAX - 29 or 275 Plus wheels, 140mm travel
Cotic FlareMAX - 29 or 275 Plus wheels, 120mm travel
Heroically Fast Bikes
---
04/04/2017 - Restrap X Cotic
Restrap X Cotic
Custom Frame Bag