---
24/05/2017 - BFe275 Summer Sale
BFe Summer Sale
Ah sunshine! It's actually 'Proper Warm' here in Sheffield this week. T-Shirts and lollies at lunch time, the whole nine yards. Hope you're getting the same wherever you are. We are having a summer sale. Whilst stock lasts we are dropping the price on BFe275 frames and bikes by £100 on current model frames.
We only have QR version in stock right now, so that's frame prices starting from just £249, and bikes from £1399. Both colours are available in most sizes, Grey/Yellow or Fast Red. You can check availability by clicking the button at the bottom of this news story.
Not only that, the final 3 small green BFe275 from the previous batch (no stealth routing, but does have external dropper routing, identical geometry) are just £199. Only three though, so be quick!
Order yours today and have it by Friday!
As you might have heard, it was Steel City DH at the weekend, and what an awesome day it was (again!). The team were out in force, Sam and Will raced too, our newest rider and brand ambassador Wes and Gaz got on the podium, it was ACE!
Cy
---
23/05/2017 - Bad News
Some bad news unfortunately, our Steel City Downhill hangovers were made worse when Sam discovered our van, Black Betty, was broken into and a couple of bikes were stolen, from right outside his house. Please keep an eye out for these bikes and let us know if you have any information:
Large RocketMAX demo bike in Fast Red, platinum spec with carbon wheels:
Fox 34 Factory Forks
Raceface Next Carbon cranks
XTR rear mech
Cane Creek DBinline shock
Joystick Analog carbon bars
WTB ci24 rims on silver Hope Pro 4 hubs
Raceface Turbine dropper post
XT brakes.
Sam's medium Rocket, green:
Roughly a gold build with a couple of identifying features:
WTB asym i29 wheels
Joystick Analog carbon bars
Hope 50mm stem
Well worn black Burgtec penthouse flat pedals.
Hope sticker on the inside of the chainstay that Baybutt doctored to say 'Dope'
Joystick Analog saddle
X Fusion Manic dropper post
Hopefully we can at least make them too hot to handle. Bike thieves are the scum of the earth, and it seems they're pretty active in the Sheffield area after the big race, keep your pride and joy safe folks. These are the best pictures we have of the exact bikes.
---
22/05/2017 - Steel City DH
Steel City DH
Is Steel City DH better than Christmas?
Steel City was as awesome as ever, but this year there was definitely a different vibe for the race and for us. Firstly, the organising team just seemed to have it down this year and it was such a chilled atmosphere on setting up that it definitely set the tone for the day. On a personal note, after getting a bit unnecessarily stressed about the race in the run up last year (despite loving the day itself) I gave racing a break after 4 consecutive events between the tapes. This gave me much less to do, and could help out the guys who were racing and just enjoy the day. There was a lot of swanning about done on my part!!
Mostly the sun shone (for a change!), the atmosphere was brilliant as usual, the food was off-the-scale good from Out To Lunch (Do You Even Brisket Bro?). The icing on the cake was that I finally stopped being so uptight and British about it, and went and told Tracy Moseley she's my hero. She was bloody lovely about it (who doesn't like being told they're someone's hero?) and we had a quick chat. She made my daughter's day by asking her about her bike too.
Cheers, Cy
A report on the day from Sam, the demo man:
I popped my Steel City DH cherry, and what an unforgettable day! I'm not a racer by any stretch of the imagination, so my aim was to have smooth runs and enjoy the day, which I did. The tunnel of noise as you ride down the track is something out of this world, big thanks to everyone who turned up and cheered as you guys made the event. Cranking past the Cotic stand before the bombhole hearing everyone cheering my name was incredible.
I tried a bit harder on my second race run, but I think the greasy conditions in the top half slowed my down a bit. That said, I did send the bombhole drop bigger than I intended. I don't think I'll forget the sight of the ground falling away from me like that in a while! I finished 34th in a stacked senior category, not a brilliant result but that seems insignificant when compared to the grin on my face.
The buzz at the bottom of the hill was amazing, one of the highlights for me was chatting to a couple who had very little idea of our sport, but had come along to see what the fuss was about. They were blown away by the whole event, and seemed keen to give it a go. If that's not a victory for everyone, I don't know what is. Can't wait for next year's race.
A quick wheel change was needed during practice and the rain brought drama too, so it was tough for the team lads with conditions and extremely stacked field making it a high pressure day. Swinny was 5th and Chay 15th, and despite the fact we know they're not that happy with that we are all super proud of them. Swinny beat Peaty for the first time ever, which was a bit of a watershed moment for him having been under Steve's wing at the SPS during his DH days. Chay got pretty much the worst of the conditions, but 2nd fastest through the speed trap shows the speed was there, just was hard to put it together when the track was "like glass".
Will, our model and man on the spanners, raced this year after not racing for a couple of years. You would think he'd never had a break from it. He was entered into the Pro category along with Chay and Swinny and showed no signs of nerves. He came 14th! 1.17.35. An incredible time! Being Swinny's brother, his board was 'Mini Swinny', but he's still pretty handy!
Hannah:
What a day... My first Steel City DH, and one I'll always remember! The crowd, atmosphere and buzz is just something else. There's so much support for all the riders there, everyone cheers everyone else on and helps each other out when they need help.
I really enjoyed meeting people at the stand, some faces I knew from past demos or the Cotic Spring Party, and many new faces of people interested in the bikes and coming along to future demos. It was great to chat to you all! See you at the next one.
New Development Squad Rider Wes Fife smashed Youth's with the win. YES WES! Top that off with Brand Ambassador Gareth Jones from A Line Coaching bringing his Rocket into 2nd in Masters behind Ben "World Cup DH racer" Deakin and that was a bloody good day on the hill for Cotic riders!
So when we asked Cy, is Steel City better than Christmas? His answer: Yes, yes it is.
---
15/05/2017 - Sheffield Urban CX
Sheffield Urban CX
Saturday May 6th saw Sheffield's inaugural urban Cyclocross race round Kelham Island industrial museum. Baybutt was right in the mix - here's his report…
Back in the Autumn, Adam Simmonite, the organiser of the Sheffield Urban Cyclocross race got in touch with Cotic about sponsoring the event to be held in May. Loads of fine Sheffield folk, getting to ride through a fantastic museum from my childhood, with bar-to-bar action and a pub close by. Perfection. The closest thing I could get to the huge Belgian races or the Single Speed CX World Champs which always appealed. It sounded like a no-brainer! Myself & Will headed up to meet Adam, work out the course and take a load of photos for the promotional material.
As we returned in early Feb for another round of course testing, hypothermic and wet, enthusiasm waned. Luckily though, race day last week dawned dry & warm. Will had since thrown in the towel so it was up to me to fly the Cotic flag. Metaphorically and literally! You'd think with two rounds of practice I'd know what I was doing but nope. Somehow I'd landed in Sport category rather than Amateur so I'd better grit my teeth and get on with it. Sign on was a breeze due to the great number of willing marshals and volunteers - bagged my first no '69' raceplate too!
We had a couple of laps of practice but as ever, that goes too quick. Spirits were up as I was in a heat with local legends Nick Hamilton, Si Hartley and Tom Newman. The 'This Is Sheffield' dual series has taught me the art of the 'racing elbow' and with the Le Mans start, the Megadeath (https://dirtmountainbike.com/racing-events/mates-races-sheffield-dh.html [1]) participants were at a distinct advantage. The course was tight with limited overtaking opportunities for the timid. When the flag dropped we had a sprint for the holeshot down the whole length of the cobbled road in front of the museum. The course dove round the back over some loose gravel, round some hairpins and over a set of doubles borrowed from the Howard St Dual, a few weeks previous. After that it headed towards the carpark for more wooden obstacles (with a cheeky un-taped corner to cut), up the loading ramp (which felt like the Koppenberg after 2 laps!), into the hall for more wooden features, followed by a run down the stairs and back outside via the Mesters Street. 2 minute laps. 25 minute heats. How bad could this be?
I'd opted for our Medium (fast red) Escapade with WTB Horizon40 Road+ tyres. Odyssey plastic BMX pedals were a novel but inspired choice as we were off and on the bikes so much clips would have been a huge hassle. Plus the plastic slid when I ground them on the corners, rather than biting if they were metal. Lastly I eschewed my heavy mtb shoes for my trusty old Nikes - the start was critical and these babies were going to help with the sprint.
So the flag dropped, the bull stopped and we were off! Second place on the sprint to Hamilton who went the wrong way twice down the first straight. Lost a couple of places on the first lap at the non-tech parts. Alec Brunson on his yellow 1x11 Escapade went round the outside of me into the hall as if I was a statue. Outside I had a full tussle with Si Hartley - I knew if I let him pass I'd never see him again. The cheeky cut line on the 180 berm helped re-gain another place. A couple of dropped chains from the leaders and miraculously I found myself finishing in 4th and qualifying for the final. To say I went pretty hard would be a doing a disservice to my heart, lungs and legs. Empty, spent, broken, crushed. All that - I was done. The first people I saw at the finish line were my parents: Passing out at my mums feet and vomiting on her shoes was a VERY real possibility so I took myself off to a quiet corner to wipe the blood from my nose and have a little sob.
The hour before the final was spent walking around trying to dislodge the knot in my stomach. Racing doesn't suit me at all… The mood on the start was even more serious, although this time we shared the gate with Rob Friel on his stag do party, wearing a very short skirt. It wasn't serious at all in fact. With fewer elbows thrown I found myself with the fastest sprint and the holeshot (thank you nike). That lasted about 5 seconds as 5 other riders squeezed past me into the first corner. Racing is frightening! The first lap of the 10 minute final was my fastest of the day but after that I went backwards. Topped off by a jelly-legs crash over the hurdles, I crawled home dead last whilst be-skirted Rob sailed home in Gold medal position. Two Escapade frames were given out in the prize draw and everyone retired to the Pedlars Market just up the road for a well earned beer or three. What a day.
The next event is to be held at the infamous Park Hill flats and promises to be more cx based with grass climbs and longer laps. Not sure that will help me much but I'll be on the start line for sure. Who's joining me? More details can be found at http://sheffieldurbancx.co.uk/ [2] and photography supplied by http://www.ninewhilefive.co.uk/kicx/ [3], Emma Peasland and Jason Holme.
---
09/05/2017 - Demo Weekend In Ireland
Ireland Demo Weekend
Last weekend Sam took the demo tour to Ireland, his first Ireland trip. He was so lucky with the weather. Blue skies and dry, amazing trails. He's written some words about his travels...
I'm worn out as I sit on the ferry home writing this, but what a fantastic weekend. Heading over to Ireland with the demo tour was a big step, and I was a little nervous about it, but I needn't have been. The trip got off to a good start sailing out of sunny Liverpool on Thursday, and the weather only got better all weekend. I was lucky to have wall to wall sunshine, which made the trip pretty special.
On Friday I caught up with Russell, a friend of mine from when I lived in Newcastle who moved home to Ballymena a couple of years ago. We headed up to meet a few of his mates for a ride in the woods above Ballycastle on the North coast. The trails were dry and running fast with tonnes of grip, the first proper summer conditions I've ridden this year. Russell bagged a KOM on the RocketMAX, and I think he's taken with the idea of a 29er! Nightrider was one of the steepest trails I've ridden in a while, getting a clean run felt amazing.
Saturday saw me head down to the National Outdoor Centre at Tollymore for an Open Demo Day. The sun kept shining and there was lots of love for the bikes, more Strava PBs and car park jibbing. Russell convinced me to go for a quick lap after I'd packed up, and I'm so glad I did. The trails there were some of the best I've ever ridden, everything about them was well made and perfectly laid out. Despite them being pretty technical, riding them blind was easy as the jumps were well shaped and the corners were all in exactly the right places to slingshot you into the next rock garden or drop. 'Parnells' is now my new favourite trails in the whole world! I did find full compression on the Rocket at one point though, but it soaked it up and fired me through some gnarly sections with ease. If you ever head to Northern Ireland for a riding trip, you must get someone to show you round Tollymore. So buzzing from a great day, I drove south on Saturday night to Dublin, ready for Sunday's demo day with expert cycles at Ticknock.
Arriving to a busy car park early morning, I knew this would be a hectic day. What I didn't know is how good the trails are there! With the local knowledge of the lads from the shop, the group demo rides took in a mixture of trail centre stuff, technical climbing on the moors, fast, rowdy and blown out enduro stages and fresh cut loam in the dense forest. Amazing riding. Again, lots of love for the bikes from both existing Cotic owners and those who'd never even seen one before. It was a busy day, with lots of people trying bikes, and 20° heat! I certainly felt like I'd earned my Guinness that evening.
Big thanks to Russell, Jennifer at Tollymore Outdoor Centre, Alfie, Robin and the lads for making the trip easier and successful. Also a huge thanks to everyone who came to the demos and made me feel so welcome. I'll definitely be back.
---
05/05/2017 - National Championships
National Championships
Last weekend saw the first ever offical UK National Enduro Championships, organised by the PMBA and held at Grizedale in the Lake District. It was an EWS qualifier so the game was upped considerably in terms of the size of the loop and the number of stages. 55km and 3 solid days of practice and racing over 10 stages meant that it was going to a proper all round test of riding. Just as it should be for the Nationals.
The boys arrived on Friday for practice, with some work to do as we had just received our X Fusion suspension for the new season, so the Metric forks and Vector shocks needed dialing in as well as practicing the stages.
With half the practice in the bag, Saturday saw some practice and some racing, with Sunday finishing off the racing. The stages varied from extremely technical to fast and flowy. Swinny said it didn't really suit him as he found it 'awkward', and Chay was getting on with it pretty well.
Overall we did pretty well, with Swinny getting 2nd in Masters and 6th overall after what he considered a bit of a difficult weekend, and Chay was disappointed with 7th in Vets after running really competitively with some old school big names like Tim Ponting and Andrew Titley. However, a front puncture (his first since the start of last season) and a crash dropped him off the podium. The speed is there though, and it was a stacked field so we're really happy for them!
---
25/04/2017 - Women's Cotic & WTB
Women's Pack Launched For All Cotic Bikes
Now we have our expanded range of bikes, it seemed that the obvious next step for our Go Custom programme of bike spec options would be to offer something for our female riders straight out of the box. We already put great emphasis on the importance of bike fit, with our no cost stem length and bar width/rise options so we can help you tailor your bike fit when you get your Cotic. With the relaunch of the Deva saddle from our friends at WTB, it seemed the perfect time to put together something great for female riders to choose when getting a bike.
Our latest addition to the team, Hannah, and our Brand Ambassador Adele have been trying out WTB women's options for a while and have given them the thumbs up, so we are now stocking WTB Deva saddles and WTB Pad Loc Thinline 28mm diameter (smaller than our Cotic option) grips as a no cost Women's Pack option on all our bike builds. Here are some photos of Hannah's Flare (it's the pre-production prototype, hence the green paint!) with the Women's Pack fitted, and Adele Mitchell's aqua Flare.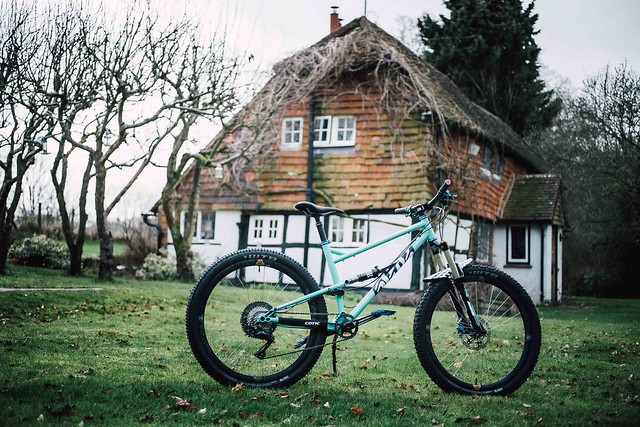 ---
24/04/2017 - Cotic Spring Party 2017
Cotic Spring Party
On Saturday 22nd April 2017, we threw open our doors at Cotic HQ for our Spring Party. We had two demo rides in the morning, one at 9.30am, and the next at 11am. The demos being held at our HQ allowed the whole demo fleet to go out and this made for some pretty big groups of demo riders. It was great to have riders on our local demo loop and on our Cotic test track. The weather was kind, as you can see from the photos, the sun was shining all day.
In the afternoon we had the Cotic Owners Ride Out. We were so happy with how many of you managed to join us in the sunny Peak District. We had 45 people come out on the ride, old and new faces, and some of the riders came quite a distance to join us.
Forge Coffee Roasters supplied us with fantastic coffee all day, from their beautiful Austin 7 van. Vocation Brewery kept the alcoholic beverages flowing. Kadai Company let us borrow a brilliant fire pit to keep us warm well into the evening. Studio Soho supplied us with a beautiful spot prize wallet, Awesome Merch kept us supplied with even more stickers and map print postcards. Special thanks to Adam and Will's mum for the amazing food!
A HUGE thanks to everyone that came along and made it a fantastic Cotic Ride out and event! See you all next time?
---
read news from earlier in 2017...